HOW MANY AND WHAT CATEGORIES OF BAKERY DO WE HAVE?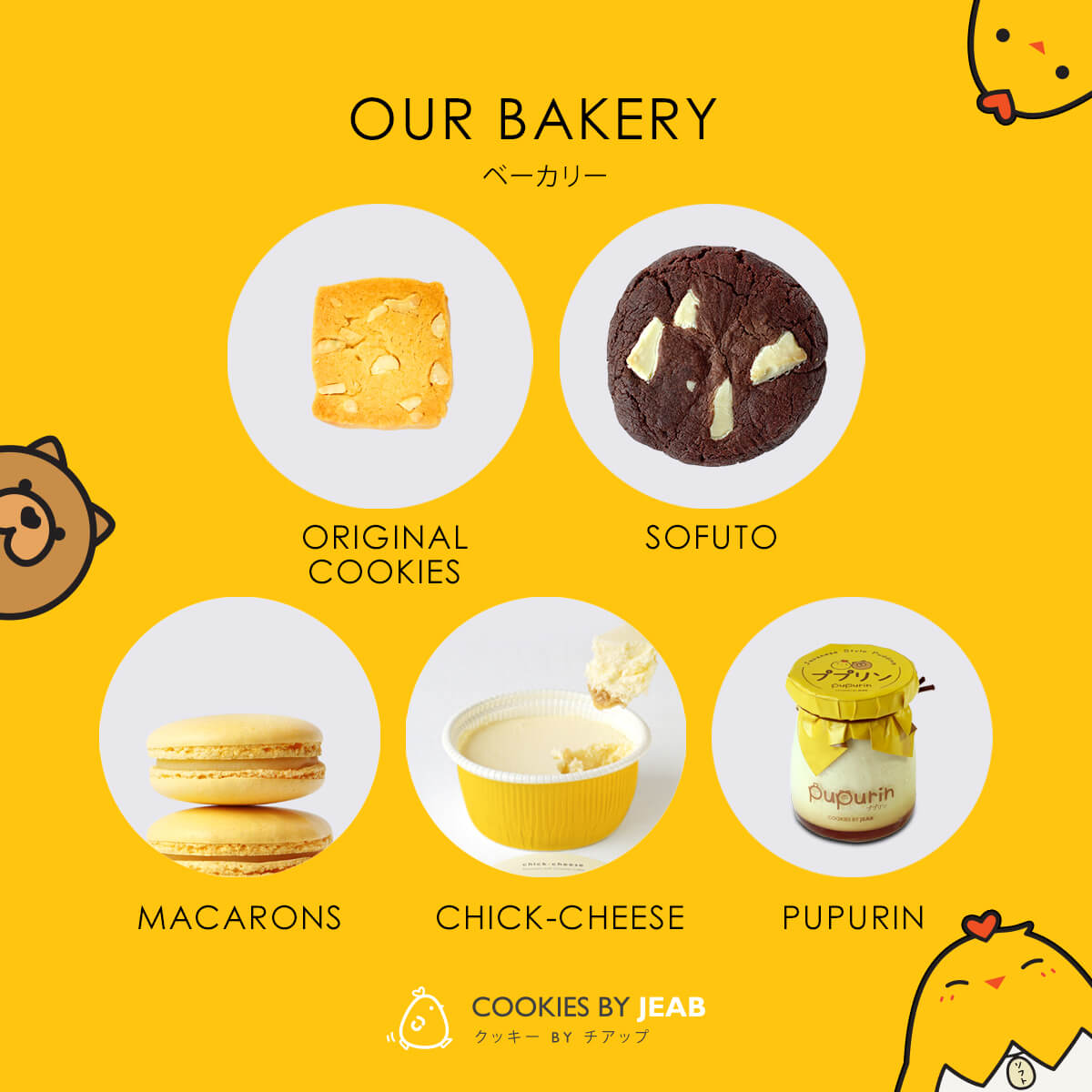 We have 5 bakery categories now.
1.
Cookies
Original Cookies 3 Flavors
2.
Sofuto
Premium Soft Cookies 5 Flavors
3.
Macarons
9 Flavors (5 Sweet & 4 Sour)
4.
Chick-Cheese
(Premium Soft Cheese Cake - Hokkaido Style)
5.
Pupurin
Japanese Style Pudding
Please, explore varieties of our beatiful packages at the 'Online Shop'
You can also explore more informations about these 5 categories of our bakery at the 'Bakery' section on this website as well
DO WE HAVE A STOREFRONT AND WHERE IT IS?

ABOUT THE PAYMENT?

We accept just the cash and tranfering via bank account.
The credit card service isn't available for now.

Foreigners or abroad customers can transfer via PayPal : ajeab@outlook.com

***The Full amount payment (Product + Delivery Costs) must be made first to proceed to order preparation and delivery.***
DO WE PROVIDE DELIVERY SERVICE?

We have delivery service both in Bangkok and to provinces.
Bangkok : Lalamove : The fee is up to the distance, start from 100 Baht.
For BKK, Free delivery, within 20 km. from the shop, for the order 3,000+ bht
Provinces : Kerry : The fee starts from 100+ bht, and is up to the weight of the products. And delivery rate to each province is specific.
The product categories and delivery availability are as follow