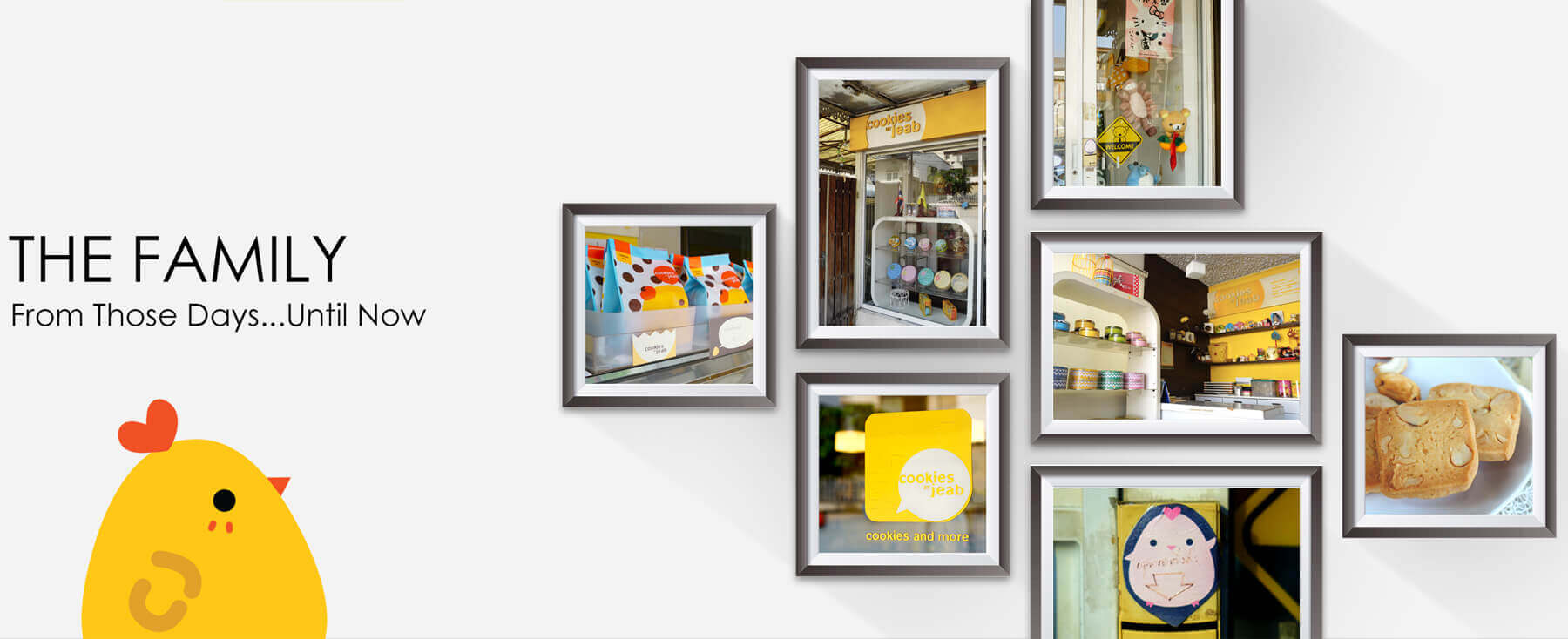 More than 20 years, here at Ratchadaphisek Rd. 3,
The stories of deliciousness and happiness continue, since we were
small untill now that we are a new big modern japanese shop.
We are always ready to welcome everyone in everyday.

From the past...until now...and so on to the future
WE WILL KEEP OUR PROMISE
TO CARE FOR EVERYTHING WITH OUR HEARTS AND HIGH RESPONSIBILITY
TO SERVE CUSTOMERS JUST THE BEST PRODUCTS AND SERVICES.
THE STORY
ストーリー
From a little egg...To a happy Jeab

Cashew Nut
K. Jeab started learning baking. That's the origination of 'Cashew Nut Cookies' our signature menu until now. After K. Jeab let her friends tried the cookies, she got very good feedbacks.
Cookies by Jeab
On New Year season, more and more people ordered K. Jeab's cookies as New Year presents. K. Jeab, thus, sold cookies in plastic boxes, wrapped with ribbons with the tag 'Cookies by Jeab'. The brand name started since then. There's no shop at that time. People just came to K. Jeab's house to get cookies.


Oatmeal Raisin
Baker Jeab launched 'Oatmeal Raisin Cookies' and got very good feedbacks as well. Cookies were made to orders and sold just in New Year season.


Big Tin
At the end of the year, baker Jeab launched the 1st cookies package, 'Big Tin', the big silver tin with the brand name Cookies by Jeab on it, to celebrate the 20 century or millennium year.


First Shop
More and more people knew Cookies by Jeab through Word of Mouth. The good feedbacks have continued to increase. Many ones asked baker Jeab to sell the cookies all the year. So, baker Jeab built a small shop at her house, and started selling cookies in the shop for the first time.
Annual Design
The 2nd design of the big tin was launched. From this year on, We have launched new design tins once a year.


Small Tin
The customers' feedbacks were still very good. Baker Jeab launched 'Small Tin' cookies.

2003
Chocolate-Chip Macadamia

Chocolate-Chip Macadamia
Baker Jeab succeed launching 'Chocolate-Chip Macadamia Cookies' with its own design tins. People loved it so much as well because of its outstanding taste.

2010
Japanese Styled Gift Brand

Japanese Styled Gift Brand
Packaging design was significantly placed importance on, started from this year. We set the mission to become 'The Unique Japanese Styled Gift Brand'. And it was the 1st year that the 'Mini Pack Cookies', was launched ,too.

2011
The First Official Website

The First Official Website
The 1st flash official website was published.


Cloth Bag
The 'Cloth Bags' were launched. It's the 1st time selling other products, not cookies.
The 2nd Website
2014 The 2nd version website was published in HTML. The online shop first started this year.


The New Beginning
The 'New Shop' construction started.


The New Shop
'The New Shop' first opened this year on August, 23th.
Japanese Packages
Many new Japanese designed packages were launched continually to celebrate the new shop, and to emphasize the brand's positioning of being 'Good Gifts For All' in Japanese style. The packages e.g. a cookie, a box, Bento were started selling this year and became famous choices until now.
Social Media
Started the PR on famous social medias e.g. Instagram, Facebook, LINE. Cookies by Jeab, thus, reach bigger market, and has been widely known more and more since then.


Macarons
On July 23, Baker Jeab launched 'Macarons', 9 flavors, the princess of desserts which are very hard to make and got a great success, as our macarons' taste was so outstanding in every way. This was the first year we obviously became the 'Bakery and Gift' shop.
The Goods
The brand 'The Goods' was created for the shop's products, that are not bakery, like mug, wooden tray, bags, etc.


Chick-Cheese
On July 23, Baker Jeab successfully launched 'Chick-Cheese' the premium soft cheese cake in Hokkaido style to serve most Thai customers that are cake lovers, and it's one of baker Jeab's favorite menus that she's intended for so long to succeed baking it.